Podcast: Play in new window | Download (24.9MB) | Embed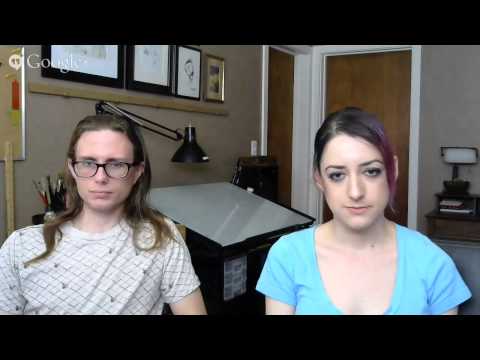 Get to know creative couple Michael Yakutis and Marisa Brenizer, who are creating a community for indie webcomic creators, Webcomic Underdogs.
About Marisa and Michael
Having spent the past four years in Washington state, Michael and Marisa have recently moved back to their home state of California with their dogs Bastion Gatsby and Caprio.
Michael has been a comic artist for some time and Marisa is a writer.
Comics
The couple got started collaborating on comics together when Marisa came up with an idea for a screenplay and then realized her boyfriend can draw comics. Together, they created their first joint webcomic, And To Be Loved. Since then, they have created several other webcomics, and are currently working on The Maidens.
Michael's first introduction to webcomics was The Perry Bible Fellowship, which he describes as swinging between "vulgar and offensive while maintaining a level of lighthearted sweetness." His other influences include Dave Sim and Alan Moore.
Marisa's favorite comic is Pandyland, a gag-a-day comic she describes as "deliciously weird and hilarious." Her other comic influences include Ghost World and Betty and Veronica!
Webcomic Underdogs
Webcomic Underdogs began as a Facebook group in 2013, but the active community outgrew the social network and expanded into it's own website, featuring discussion boards, resources and featured artists.
They're currently organizing local chapters, including meet-ups along the west coast. They are also developing a podcast for the community, as well.
The Webcomic Underdogs Patreon Page
Because their current contributions to  the Webcomic Underdogs community take up much of their time, Marisa and Michael are holding off on listing incentives and milestones on their Webcomic Underdogs Patreon Page. Instead, they're making careful decisions about how they spend their time and energy commitments, and are simply allowing those who enjoy what they're doing  to support them through Patreon.
Favorite Quotes
Marisa:
Michael:
What's with Space Lincoln?
There was a contest held among the members of WCU when they first started the group. The Space Lincoln design won. It was designed by Martin Pope, creator of Vorto the Pirate.
Connect with Marisa and Michael
Patreon | @webcomicu | Facebook | DeviantArt
www.webcomicunderdogs.com | www.maidenscomic.com
[end contact]